Vision for the Future
As part of the new "Commitment to the Future" Campaign, we are excited to present the following three drawings as a vision of what Congregation Ahavas Yisrael could look like in the future. These include an architect's rendering, a site plan of the combined properties (1587 Route 27 and 9 Campbell Avenue), and a new floorplan of the building with a proposed addition. These are simply a vision, are subject to change, and are by no means final. If you would like to be involved in the future of AY, please speak to any of the committee members listed below:
Rabbi Daniel Davis
Jeff Borell
Bruce Jacobi
Avi Milgraum
David Zelingher
Send an email: FUTURE@AYEdison.org
Details about the drawings:
- The basic concept is to create a new entrance in the rear (or left side) of the synagogue site. This also allows an open space in front of the entrance rather than entering the building between two parked cars.
- MIKVEH: If feasible, a future below-ground Mikveh is indicated on the site plan with a discrete entrance.
- SIMCHA HALL: A future above-ground simcha hall is indicated on the site plan with an entrance from the main lobby.
- PARKING: Added parking is provided included handicapped spaces as required by Code.
- TOILETS: The toilets are increased in keeping with the number of occupants of the building. We have provided a changing table for infants in the Women's restroom.
- LOBBY: The lobby will be used as a space for Kiddush until the simcha hall is completed. The second playroom behind the lobby has pocket doors which can be slid open further expanding the lobby area for congregational events.
- KITCHEN: We have added a small kitchen.
- RITUAL SINK: Included in the lobby.
- PLAYGROUND: The children can go from the playroom out the back of the building directly to the playground.
- STROLLERS: We have provided a separate space for strollers. This room can also accommodate coats and other storage.
- FRONT ELEVATION: We have shown an architectural pediment on the front elevation. This may only extend back about 4 to 8 feet. We felt it was important to provide a distinctive new image for the congregation rather than that of a small maintenance building.
- SANCTUARY WINDOWS: Some of the windows may be stained glass in the sanctuary.
- NEW WINDOWS: High windows may be added to the women's area and the playrooms.
- TREES: There are overgrown trees around the synagogue that may be removed. Some additional site landscaping work is required and may be part of the project.
- NOTE: For those not familiar with reading architectural plans, the dotted lines on the floor plan represents existing walls and doors that will be removed with the renovation.
Wed, November 29 2023
16 Kislev 5784
Zmanim
Alos Hashachar
5:32am
Earliest Tallis
6:04am
HaNetz
6:58am
Latest Shema
9:21am
Zman Tefillah
10:09am
Chatzos (Midday)
11:45am
Mincha Gedola
12:09pm
Mincha Ketana
2:33pm
Plag HaMincha
3:32pm
Shkiah (Sunset)
4:32pm
Tzais Hakochavim
5:16pm
More >>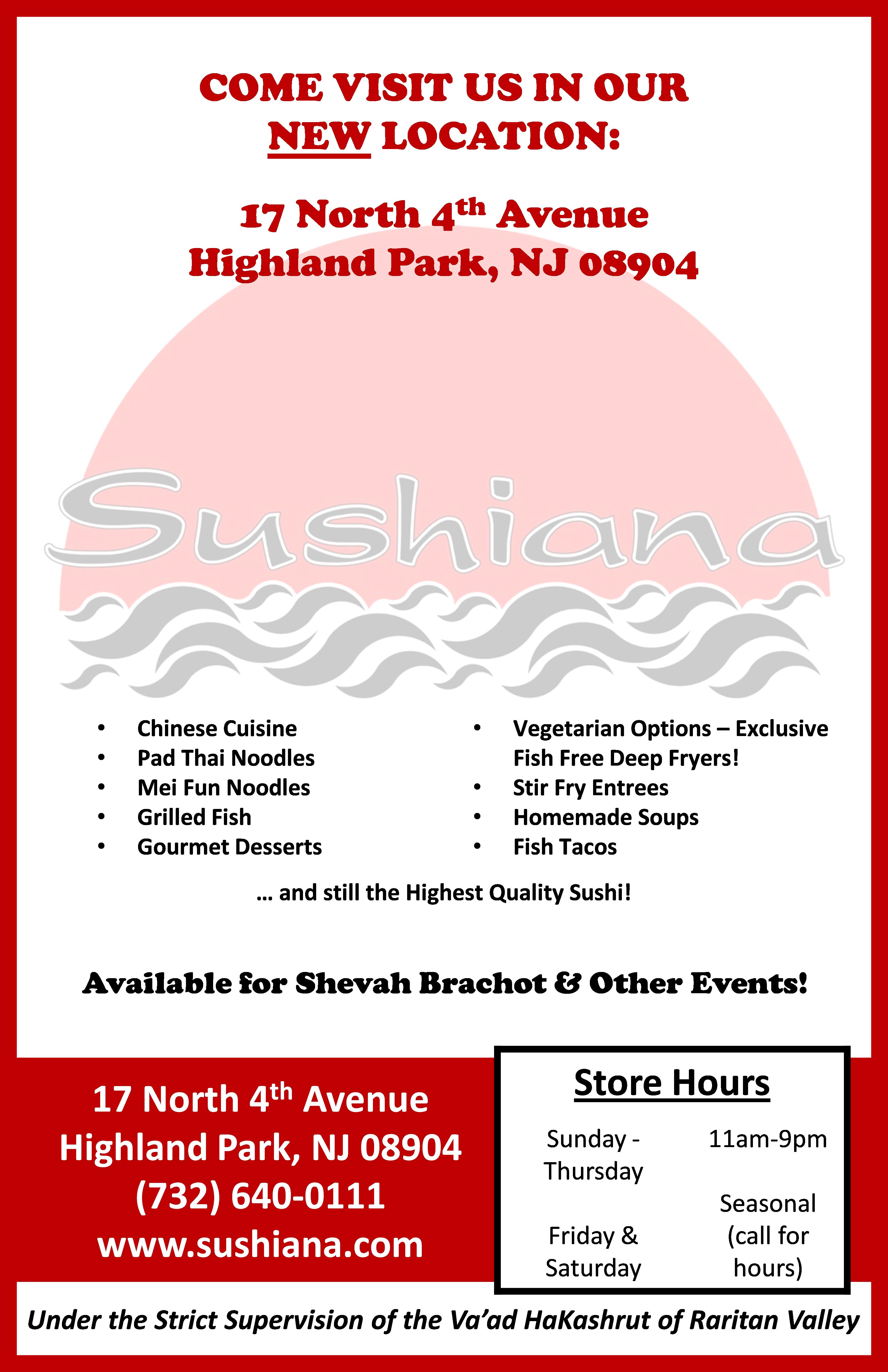 Sushiana
Eat in, Take out, & Delivery!
17 N. 4th Avenue
Highland Park, NJ, 08904
(732) 640-0111
www.sushiana.com
facebook.com/SushianaHP
twitter.com/SushianaHP
CLICK HERE FOR MENU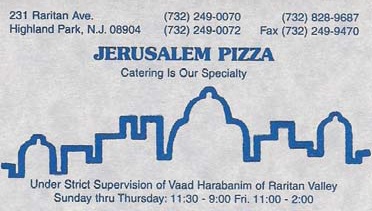 Jerusalem Pizza
Catering Is Our Specialty!
231 Raritan Avenue
Highland Park, NJ, 08904
(732) 249-0070 Phone
(732) 249-9470 Fax
Under the supervision of the Vaad Harabanim of Raritan Valley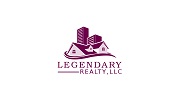 ---
Buying? Selling?
For all your real estate needs
Alan "Avi" Berger
Broker/Owner
Legendary Realty, LLC
85 Foyer Street
Edison, NJ 08817
Phone: 732-659-9688
Cell: 732-306-6966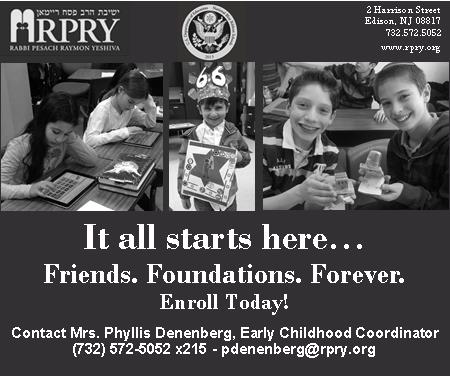 Rabbi Pesach Raymon Yeshiva
2 Harrison Street
Edison, NJ, 08817
(732) 572-5052
Rabbi Shraga Gross, Principal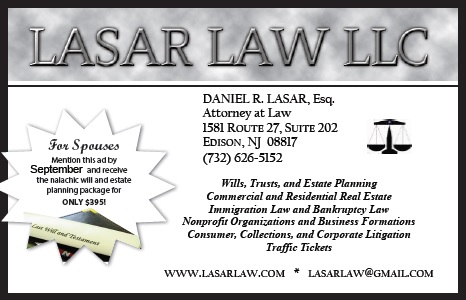 Daniel R. Lasar, Esq.
Attorney at Law
1581 Route 27, Suite 202
Edison, NJ, 08817
(732) 626-5152 office
www.LasarLaw.com
LasarLaw@gmail.com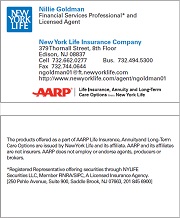 Nillie Goldman
For all your financial planning needs!
(732) 494-4300 Office
(732) 662-0277 Cell
ngoldman01@ft.newyorklife.com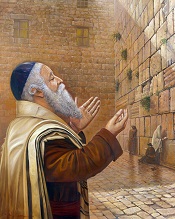 Shacharis:

Sun and Legal Holiday:

8:15 am

Mon & Thur:

6:30 am

Tue, Wed & Fri:

6:30 am

Shabbos : 6:45 am & 9:00 am
Mincha:
Sunday:
B'zman
Friday:
B'zman
Shabbos:
B'zman
Maariv:
Sunday:
B'zman
Mon - Thur:

9:00 pm
Fri:
Following Mincha
Shabbos:
B'zman
Contact Us
Congregation Ahavas Yisrael
1587 Route 27 (Corner of Campbell Ave. & Route 27)
Edison, NJ, 08817
(732) 287-1230
Rabbi Gedaliah Jaffe
Presidium:
Rabbi Dani Davis
Abba Dovid Joran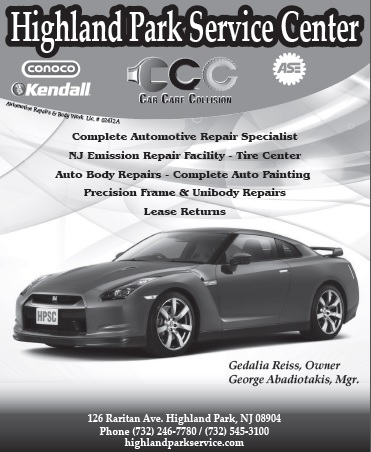 Highland Park Service Center
Complete Automotive Repair Specialist
NJ Emission Repair Facility, Tire Center, Auto Body Repairs, Complete Auto Painting, Precision Fram & Unibody Repairs, Lease Returns
126 Raritan Avenue
Highland Park, NJ, 08904
(732) 246-7780
(732) 545-3100
carcarecollision@gmail.com
www.highlandparkservice.com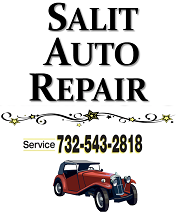 Wed, November 29 2023 16 Kislev 5784