Our minyan was founded in 1988 and over the years the minyan has grown and flourished as new families have moved into the neighborhood. However, we remain committed to the values that motivated the founders of the minyan. We have always taken pride in our serious attitude towards our Tefillah, our unity and dedication to achdus among the families in our neighborhood, our strong commitment to Torah learning and our support for Eretz Yisrael.
Our davening is characterized by a strong focus and concentration towards the Ribono Shel Olam. We instill in our children the seriousness of our prayer service, and actively encourage our teenagers to participate in leading the service and learning to be a Shaliach Tzibur. We teach by model, and show our children by example that standing before Hashem in prayer is a service of both love and reverence. We enjoy a quiet service, with a moderate pace. Our prayers are not hurried or raced through, and we maintain a quiet decorum throughout the davening.
Another guiding characteristic of the community is our dedication to achdus and looking out for the needs of each family. We celebrate semachot together, and we support each other in time of need, illness and loss. We are sensitive to the feelings of each of our members, and go out of our way to extend a helping hand of chesed in any way possible. We have always been proud of the chesed within our neighborhood, and dedicate ourselves to role model behavior in this area.
Torah study is another fundamental aspect of our neighborhood community. We have long taken pride in the deep devotion and dedication to all aspects of Torah study within our neighborhood. We support various shiurim and study sessions, and promote the study of Torah as a primary expression of our religious experience. Our children are taught from an early age the value of Torah study, and participate in our Torah sessions.
Fri, September 22 2023
7 Tishrei 5784
Zmanim
Alos Hashachar
5:23am
Earliest Tallis
5:55am
HaNetz
6:44am
Latest Shema
9:46am
Zman Tefillah
10:48am
Chatzos (Midday)
12:49pm
Mincha Gedola
1:20pm
Mincha Ketana
4:22pm
Plag HaMincha
5:38pm
Candle Lighting
6:37pm
Shkiah (Sunset)
6:55pm
Tzais Hakochavim
7:35pm
More >>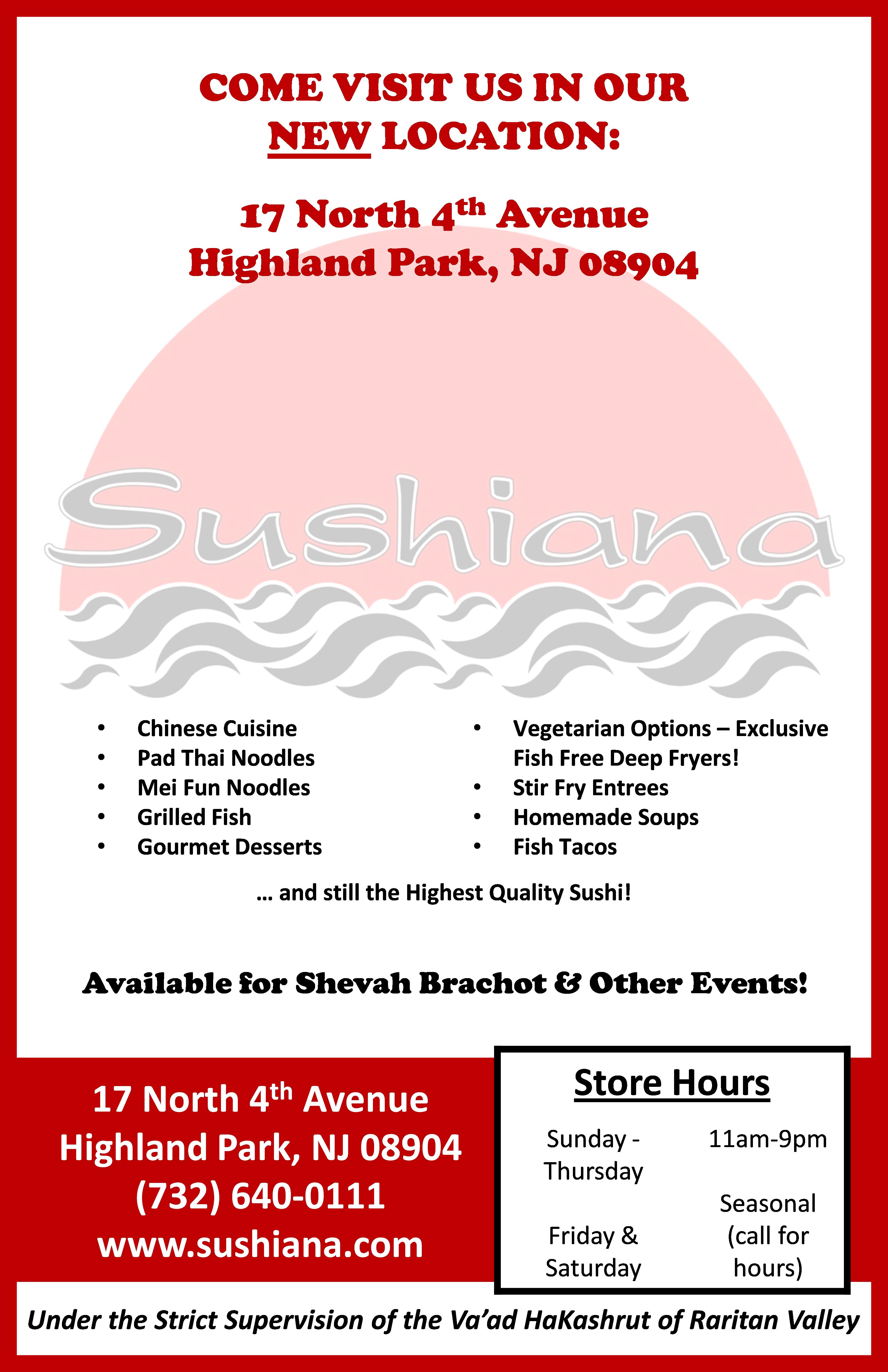 Sushiana
Eat in, Take out, & Delivery!
17 N. 4th Avenue
Highland Park, NJ, 08904
(732) 640-0111
www.sushiana.com
facebook.com/SushianaHP
twitter.com/SushianaHP
CLICK HERE FOR MENU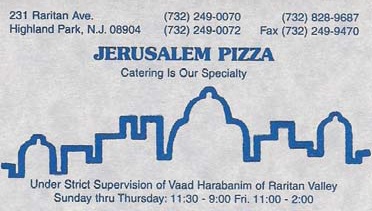 Jerusalem Pizza
Catering Is Our Specialty!
231 Raritan Avenue
Highland Park, NJ, 08904
(732) 249-0070 Phone
(732) 249-9470 Fax
Under the supervision of the Vaad Harabanim of Raritan Valley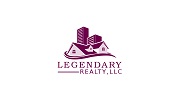 ---
Buying? Selling?
For all your real estate needs
Alan "Avi" Berger
Broker/Owner
Legendary Realty, LLC
85 Foyer Street
Edison, NJ 08817
Phone: 732-659-9688
Cell: 732-306-6966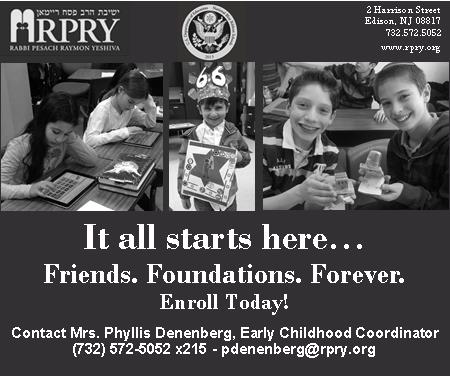 Rabbi Pesach Raymon Yeshiva
2 Harrison Street
Edison, NJ, 08817
(732) 572-5052
Rabbi Shraga Gross, Principal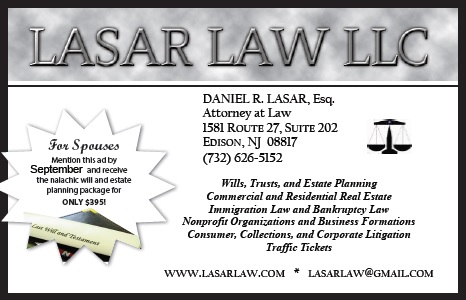 Daniel R. Lasar, Esq.
Attorney at Law
1581 Route 27, Suite 202
Edison, NJ, 08817
(732) 626-5152 office
www.LasarLaw.com
LasarLaw@gmail.com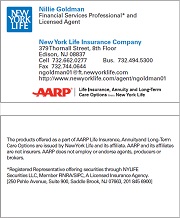 Nillie Goldman
For all your financial planning needs!
(732) 494-4300 Office
(732) 662-0277 Cell
ngoldman01@ft.newyorklife.com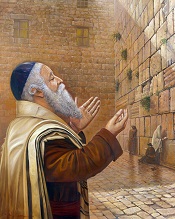 Shacharis:

Sun and Legal Holiday:

8:15 am

Mon & Thur:

6:30 am

Tue, Wed & Fri:

6:30 am

Shabbos : 6:45 am & 9:00 am
Mincha:
Sunday:
B'zman
Friday:
B'zman
Shabbos:
B'zman
Maariv:
Sunday:
B'zman
Mon - Thur:

9:00 pm
Fri:
Following Mincha
Shabbos:
B'zman
Contact Us
Congregation Ahavas Yisrael
1587 Route 27 (Corner of Campbell Ave. & Route 27)
Edison, NJ, 08817
(732) 287-1230
Rabbi Gedaliah Jaffe
Presidium:
Rabbi Dani Davis
Abba Dovid Joran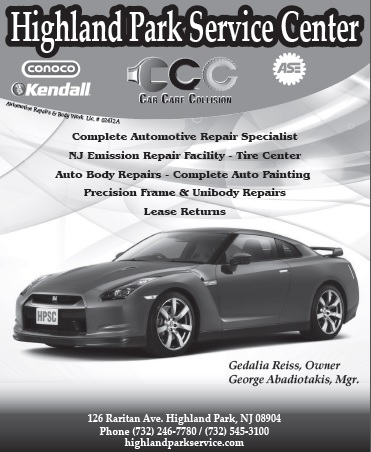 Highland Park Service Center
Complete Automotive Repair Specialist
NJ Emission Repair Facility, Tire Center, Auto Body Repairs, Complete Auto Painting, Precision Fram & Unibody Repairs, Lease Returns
126 Raritan Avenue
Highland Park, NJ, 08904
(732) 246-7780
(732) 545-3100
carcarecollision@gmail.com
www.highlandparkservice.com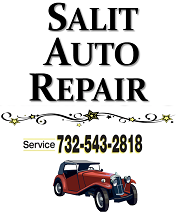 Fri, September 22 2023 7 Tishrei 5784