Congregation Ahavas Yisrael
Pesach 5775/2015
CLICK HERE for the Ma'os Chittim Letter from Rabbi Jaffe
CLICK HERE to give Ma'os Chittim through the website
CLICK HERE for the Mechiras Chametz form
CLICK HERE for the Pesach 5775 @ AY schedule
REMINDER: The 2015 OU Passover Guide is available to all members in the shul lobby free of charge. Please take one (1) copy per family.
The next Simcha Kiddush is Shabbos, Parshas Tazria/Metzora, April 25th
Celebrating February/March/April Events!
Welcome to Congregation Ahavas Yisrael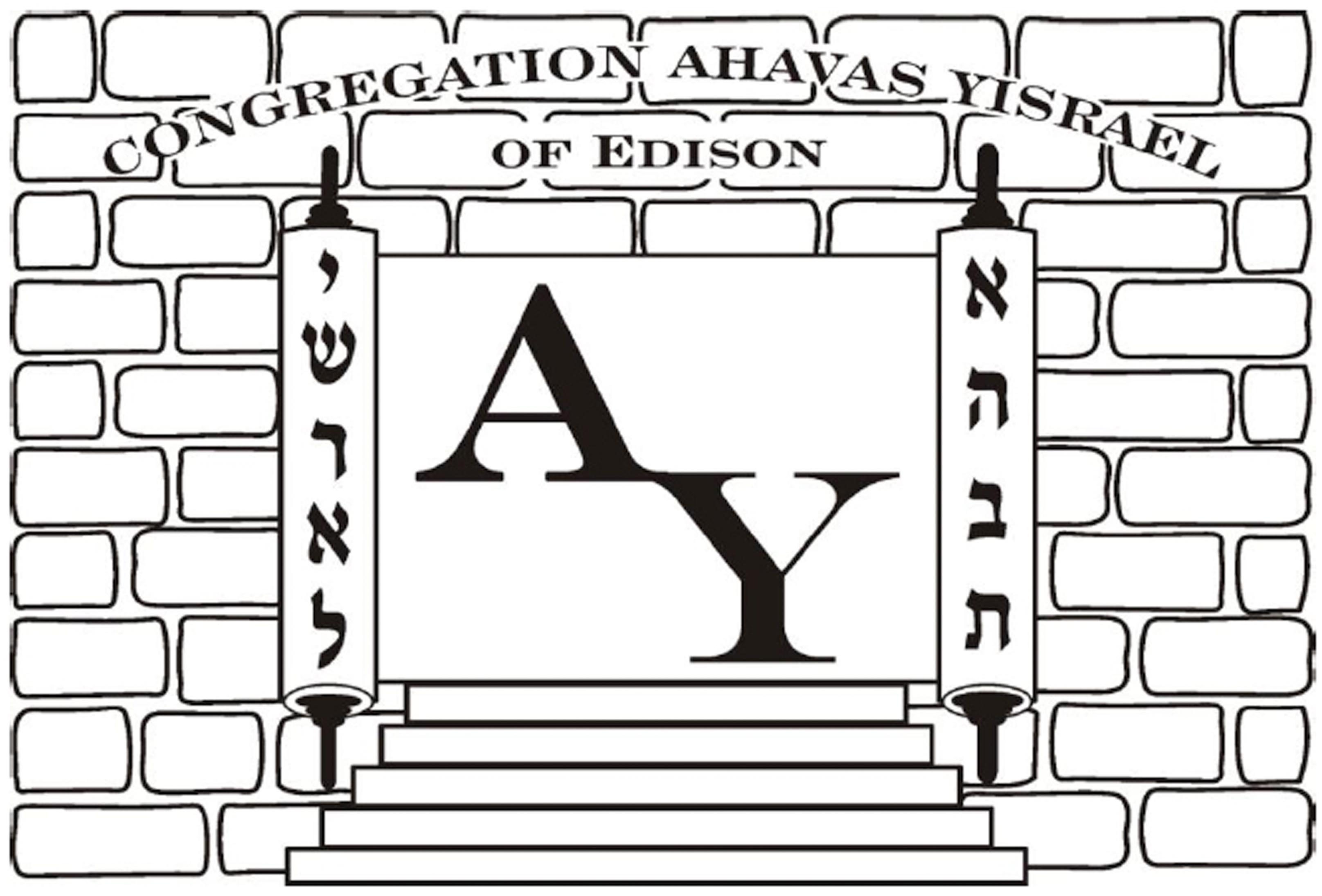 "A warm place where people are committed to spiritual development"
Programming for all ages, young and old!
Multiple options for Kosher food and Yeshiva education!
Fully functional Mikvah and Eruv!
Affordable housing, with multiple homes NOW FOR SALE!
Convenient location near train station and access to local highways!
Welcome to Congregation Ahavas Yisrael, located at 1587 Route 27 in Edison. AY, as we're known, is a Modern Orthodox synagogue located in Central New Jersey. We pride ourselves on our warmth and hospitality, as well as strong leadership from our Rav and Board who are committed to the shul's continued growth. Here you'll find a beautiful, affordable neighborhood located in the heart of New Jersey and only a short train ride from locations north, such as Newark and New York City.
~~~~~~~~~~~~~~~~~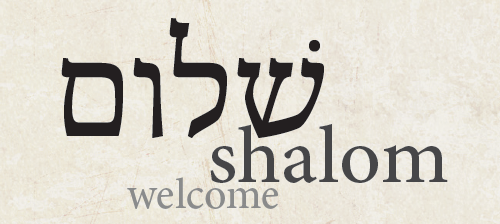 COME CHECK US OUT!
If you'd like to spend a Shabbos at AY, let us know by clicking here. Full accommodations can be made for families, small or large!
~~~~~~~~~~~~~~~~~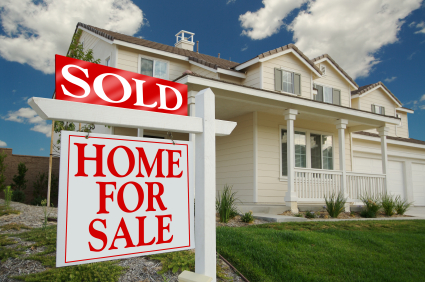 Looking to buy or rent a home or apartment in the area?
Click above to see local listings and connect with local agents!
Wed, 1 April 2015 12 Nisan 5775
Wed, 1 April 2015
12 Nisan 5775
Giddy's Pizzeria
233 New Jersey 18
East Brunswick, NJ, 08816
(732) 659-6898 Phone
www.giddyspizzeria.com
Hours of Operation
Monday: 11:00AM - 10:00PM
Tuesday: 11:00AM - 10:00PM
Wednesday: 11:00AM - 10:00PM
Thursday: 11:00AM - 10:00PM
Friday: 11:00AM - SUNSET
Saturday: SUNSET - MIDNIGHT
Sunday: 11:00AM - 10:00PM
Jerusalem Pizza
Catering Is Our Specialty!
231 Raritan Avenue
Highland Park, NJ, 08904
(732) 249-0070 Phone
(732) 249-9470 Fax
Under the supervision of the Vaad Harabanim of Raritan Valley
Camp Gan Israel Piscataway
1690 Stelton Road
Piscataway, NJ, 08854
(732) 296-1800 office
(732) 828-6890 fax
Office@GanIsraelNJ.com
www.GanIsraelNJ.com
Facebook: Gan Izzy Piscataway NJ
Sushiana
Eat in, Take out, & Delivery!
17 N. 4th Avenue
Highland Park, NJ, 08904
(732) 640-0111
www.sushiana.com
facebook.com/SushianaHP
twitter.com/SushianaHP
CLICK HERE FOR MENU
Avi Berger
Buying? Selling?
For all your real estate needs
732-306-6966
Check out Avi's Facebook page!
Daniel R. Lasar, Esq.
Attorney at Law
1581 Route 27, Suite 202
Edison, NJ, 08817
(732) 626-5152 office
www.LasarLaw.com
LasarLaw@gmail.com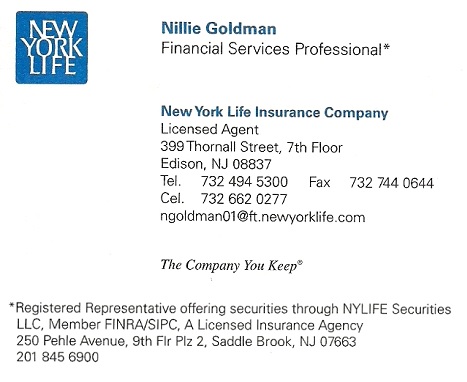 Nillie Goldman
For all your financial planning needs!
(732) 494-4300 Office
(732) 662-0277 Cell
ngoldman01@ft.newyorklife.com
This Week at AY
3/29 - 4/3
Sunday
Personalities of the Talmud with the Steinsaltz Ambassadors @ 9:15AM
Mincha/Ma'ariv @ 7:05/7:25PM
Mon/Thu
Mincha/Ma'ariv @ 7:05
/7:25
PM
Bava Kama Chabura @ 8:45PM
Shacharis @ 6:15AM
Mincha/Ma'ariv @ 7:05
/7:25
PM
Contact Us
Congregation Ahavas Yisrael
1587 Route 27 (Corner of Campbell Ave. & Route 27)
Edison, NJ, 08817
Rabbi Gedaliah Jaffe
President David Zelingher
Zmanim
Alos Hashachar
5:19a
Earliest Tallis
5:51a
HaNetz
6:41a
Latest Shema
9:51a
Zman Tefillah
10:55a
Chatzos (Midday)
1:01p
Mincha Gedola
1:33p
Mincha Ketana
4:43p
Plag HaMincha
6:02p
Shkiah (Sunset)
7:21p
Tzais Hakochavim
8:02p
More >>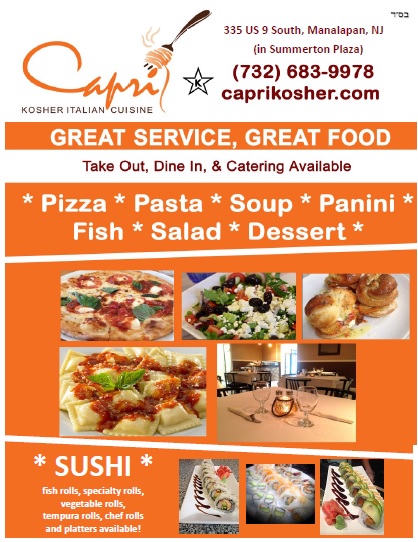 Capri Kosher
Great Service, Great Food
335 US 9 South
Manalapan, NJ, 07726
(in Summerton Plaza)
(732) 683-9978 phone
www.caprikosher.com
capirkosher@gmail.com
Highland Park Service Center
Complete Automotive Repair Specialist
NJ Emission Repair Facility, Tire Center, Auto Body Repairs, Complete Auto Painting, Precision Fram & Unibody Repairs, Lease Returns
126 Raritan Avenue
Highland Park, NJ, 08904
(732) 246-7780
(732) 545-3100
carcarecollision@gmail.com
www.highlandparkservice.com
Rabbi Pesach Raymon Yeshiva
2 Harrison Street
Edison, NJ, 08817
(732) 572-5052
Rabbi Shraga Gross, Principal