Please complete and submit the form below if you would like to participate in the Learning program at AY this coming year. Thank you!
shiur here!
Here is a list of just a few shiurim that are offered here at AY:
Sundays: "Breakfast with a Touch of Class" - Following Shacharis
Monday - Friday: Dirshu Daf Yomi B'halacha - 6:00AM until davening starts
Mondays: Gemara Brachos Chabura - Following 8:30PM Ma'ariv (click here for flyer)
Shabbos: Hilchos Shabbos Chabura @ 8:25AM
Shabbos: Nesivos Shalom Shiur - 45 Minutes Before Mincha
There are also many shiurim offered around town. For a complete list of local shiurim and their locations, CLICK HERE. (updated 11/5/15)
If you are interested in a specific type of shiur or learning program, please use the form below to send in your request. We try our best to accommodate all requests.
Thu, September 21 2017 1 Tishrei 5778
Thu, September 21 2017
1 Tishrei 5778
Open House
This Sunday, February 12
Gan Israel Highland Park NJ
Prepare To Experience The Ultimate Summer Camp!
170 College Ave.
New Brunswick, NJ 08901
732-296-1800
www.ganisraelnj.com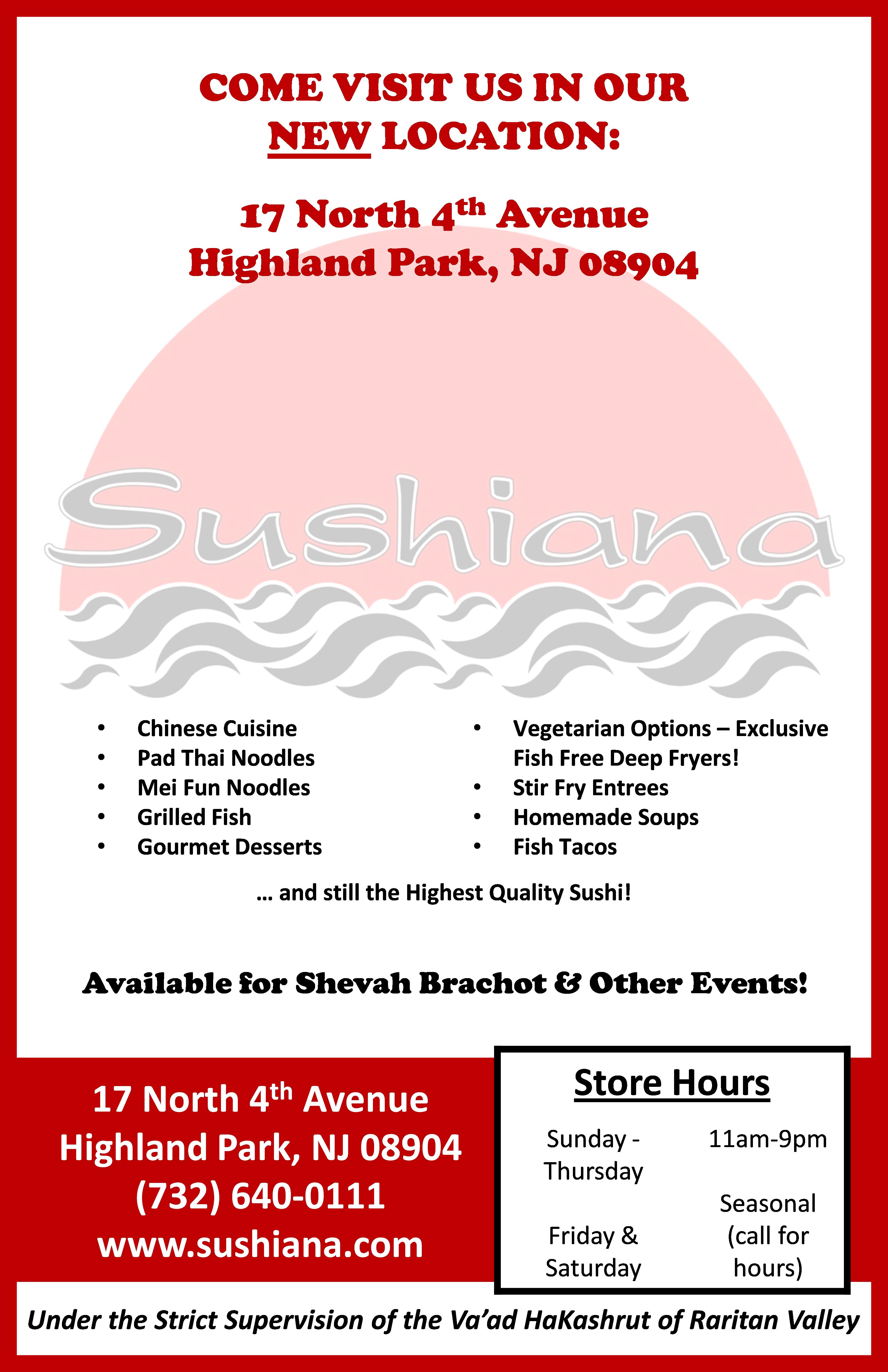 Sushiana
Eat in, Take out, & Delivery!
17 N. 4th Avenue
Highland Park, NJ, 08904
(732) 640-0111
www.sushiana.com
facebook.com/SushianaHP
twitter.com/SushianaHP
CLICK HERE FOR MENU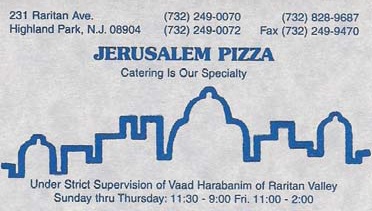 Jerusalem Pizza
Catering Is Our Specialty!
231 Raritan Avenue
Highland Park, NJ, 08904
(732) 249-0070 Phone
(732) 249-9470 Fax
Under the supervision of the Vaad Harabanim of Raritan Valley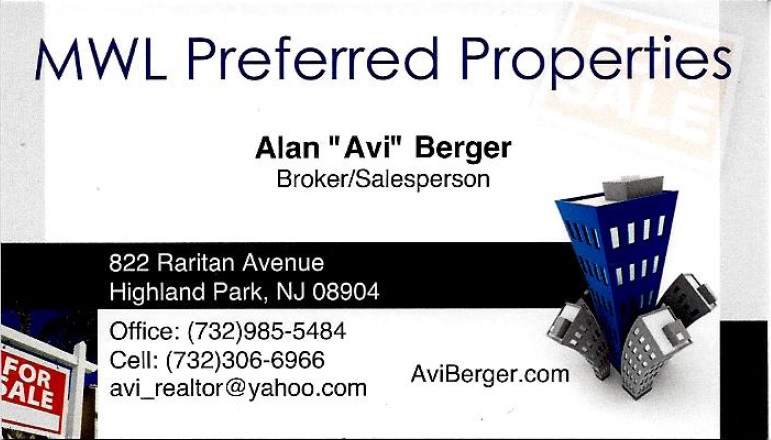 Avi Berger
Buying? Selling?
For all your real estate needs
732-306-6966
Check out Avi's Facebook page!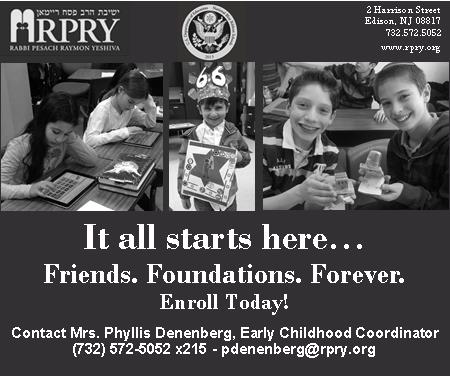 Rabbi Pesach Raymon Yeshiva
2 Harrison Street
Edison, NJ, 08817
(732) 572-5052
Rabbi Shraga Gross, Principal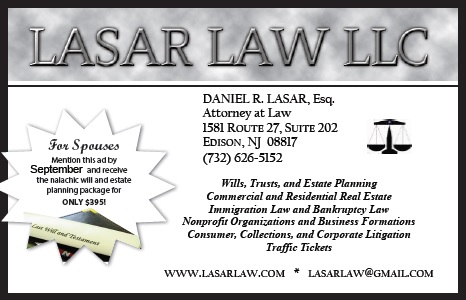 Daniel R. Lasar, Esq.
Attorney at Law
1581 Route 27, Suite 202
Edison, NJ, 08817
(732) 626-5152 office
www.LasarLaw.com
LasarLaw@gmail.com
Nillie Goldman
For all your financial planning needs!
(732) 494-4300 Office
(732) 662-0277 Cell
ngoldman01@ft.newyorklife.com
_______________________
Sun, 9/17 - Fri, 9/20
__________________
See Rosh Hashana schedule for remainder of week
__________________
_____________________
Sunday
Shacharis: 8:15
Maariv: 8:30
Monday
Selichos: 5:35
Shacharis: 6:10
Maariv: 8:30
Tuesday
Selichos: 5:45
Shacharis: 6:15
Maariv: 8:30
Wednesday
Erev Rosh HaShana
Selichos: 5:00
Shacharis: 6:15
Thursday
Friday
~~~~~
Rabbi Jaffe's shiurim are now available online!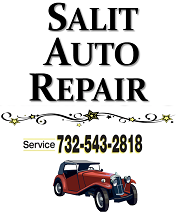 Contact Us
Congregation Ahavas Yisrael
1587 Route 27 (Corner of Campbell Ave. & Route 27)
Edison, NJ, 08817
(732) 287-1230
Rabbi Gedaliah Jaffe
President Bruce Jacobi
Zmanim
Alos Hashachar
5:22a
Earliest Tallis
5:54a
HaNetz
6:43a
Latest Shema
9:46a
Zman Tefillah
10:48a
Chatzos (Midday)
12:50p
Mincha Gedola
1:20p
Mincha Ketana
4:23p
Plag HaMincha
5:40p
Candle Lighting
7:38p
Shkiah (Sunset)
6:56p
Tzais Hakochavim
7:37p
More >>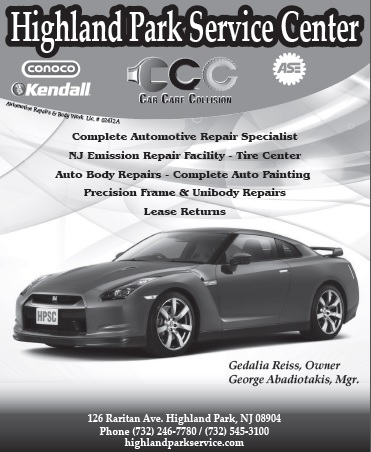 Highland Park Service Center
Complete Automotive Repair Specialist
NJ Emission Repair Facility, Tire Center, Auto Body Repairs, Complete Auto Painting, Precision Fram & Unibody Repairs, Lease Returns
126 Raritan Avenue
Highland Park, NJ, 08904
(732) 246-7780
(732) 545-3100
carcarecollision@gmail.com
www.highlandparkservice.com